Welcome to the
Massage Video Tutorials

Library 

 
Your Ultimate Online Resource for
Mastering the Art of Massage Therapy

!

 
OVER 1000 HOURS OF VIDEO AT YOUR FINGERTIPS
Are you looking to take your massage therapy skills to the next level? Do you want to learn new techniques and approaches that will set you apart from the competition? Look no further than the Massage Video Tutorials Library!
With over 1000+ training hours at your fingertips, you'll have everything you need to become a master of massage therapy. Our expertly curated videos cover a wide range of massage techniques and modalities, from traditional Swedish and deep tissue to specialized techniques like Sports & Medical Massage.
Whether you're a massage therapist looking to enhance your skills, a student just starting out, or someone who wants to learn how to give a great massage to their loved ones, the Massage Video Tutorials Library is the perfect resource for you.
ENROLL NOW
Confidently Stay within the
Scope of Practice

& Stop Going "Blind"

As a massage therapist, your goal is to make your clients feel better. How many times, though, are you working on your client and they don't seem to be getting better...and maybe even sometimes feel worse...after sessions with you?

Or, do you sometimes find yourself doing a certain "ROUTINE" for each massage rather than customizing the therapy for your patient...mostly because you aren't sure WHAT to do for a specific pain or issue your patient may have?
HAVE YOU EVER WONDERED WHY MY MASSAGE PRACTICE NEVER TAKES OFF?
Do these sound familiar?
Fail to re-book a Client
No knowledge of Kinesiology
Not following a Treatment Plan
No idea how to perform an Assessment
Not knowing the condition of your client
Not knowing which muscle/joint is injured
Not understanding what the issue is with your Client's Pain
Most massage practices fail to educate and re-book their clients because of the following are missing:
Educating your client about the recovery time!
Proper Treatment Plan.
By implementing this, you can attract loyal clients, increase your income by at least

50%

and become a leader and educate your clients.
Subscribe to our custom-made video app for Massage Therapists to take your practice to the next level today.
Become the
Premiere

Massage Therapist in Your Area

Assessing your client's pain level, strength, weakness, and posture will give you an upper-hand knowledge compared to other therapists while gaining the insights you need to better address the client's pain with confidence.
Differentiate yourself from other therapists in the industry by becoming a knowledgeable and skilled therapist.
Gain a competitive advantage in the marketplace by being seen as an expert in pain management and relief.
Expand your knowledge and skills beyond basic massage techniques, adding value to your practice and setting you apart in the industry.
Communicate more effectively with clients about their pain and the treatment process, building trust and confidence in the therapy.
Stay up-to-date with the latest research and techniques.
ENROLL NOW
I appreciated that the app included a range of techniques, from simple relaxation techniques to more advanced therapeutic techniques. This makes it a great resource for both novice and experienced massage therapists, as well as for anyone looking to learn more about massage.
One thing I particularly liked about the app was the ability to customize my own playlists of techniques. This makes it easy to create personalized sequences for my clients, based on their individual needs and preferences.
Thank you Dorel!
____Bernadete C. , LMT PA
Introducing
Massage Video Tutorials

:

 

So what should you do in an assessment?  Don't worry, we've got you covered.

For example, your client complains about shoulder pain...or elbow, hip, lower back, knee, etc.

Inside the Apps Library, we give you detailed videos that walk you through exactly what you need to know for your client.

You'll gain access to over 1000+ videos at your fingertips that you can use before & after the session while with your client.

INSTANT ACCESS to the following APPs Library:
Orthopedic Assessments (220 + videos)
Massage for Conditions & Injuries (83+ videos)
Client Stretching for Massage Therapist

 

(79+ videos)
Massage Modalities for Massage Therapists (23 modalities)

 

Massage for Compartments & Regions

 

(23+ videos)
Anatomy & Physiology (10 Systems)
Massage Practice (documentation, draping, ethics)
Business Course (7 modules)

 

Podcast
Once a month LIVE webinar with real case clients in our school
As a massage therapist myself, I was excited to purchase this app and see what it had to offer. I have to say, I was thoroughly impressed with the quality and variety of techniques included in the videos. The videos are well-produced and easy to follow, with clear explanations and demonstrations of each technique.
Overall, I highly recommend this app to any massage therapist looking to expand their skills and knowledge. It is a valuable resource that is well worth the investment
____Militza Molina, Student
Special Bonuses

Included When You Enroll Today:
Bonus #1
GONIOMETER ASSESSMENTS TOOL
With this tool, you'll be able to quickly and efficiently measure a range of motion ROM. Members often tell us this alone is worth the investment to enroll.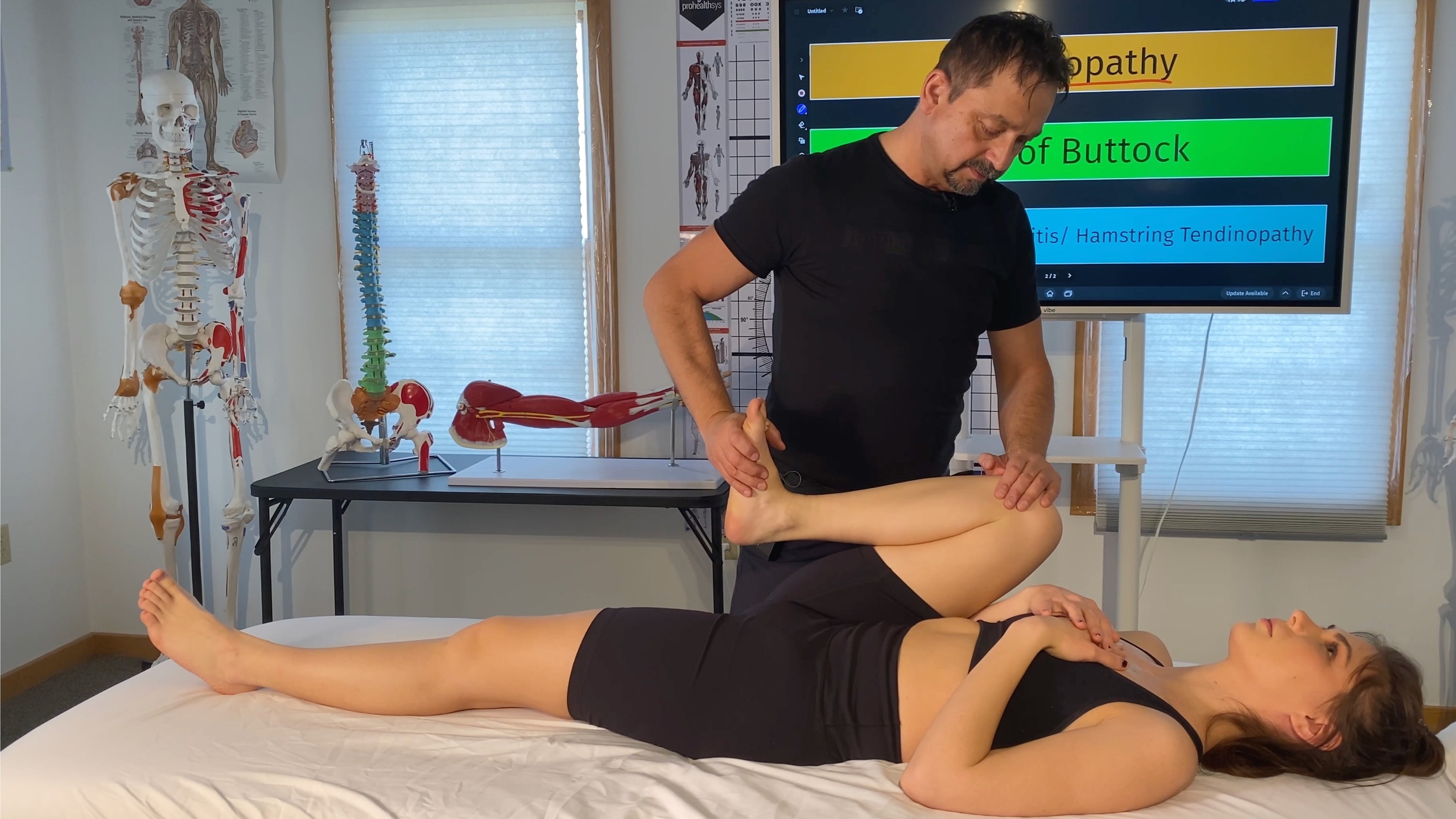 Bonus #2
LOWER BACK PAIN
Unlock our secrets to supporting your clients who are suffering from Lower Back Pain. Become their new favorite massage therapist!
Bonus #3
LIVE WEBINAR WITH REAL CASE
Once a month we have a client in our school with a real condition in which we can help. You will get to experience how to approach your clients in that specific condition.
These videos have an immensely vast array of information, are well organized, and overall a great experience. You can see that a lot of effort put into these APPs is uncanny. Finally, I have a source to rely on it!
____ Ashley Young, LMT
FREQUENTLY ASKED QUESTIONS
How do I know if this APP is right for me?
So, this subscription, give me access to your live class once a month?
Will be there any upgrade?
Do you have any incentives if I refer a friend?
What types of massage techniques do your videos cover?
Do I need any special equipment to follow along with the videos?
How long are the massage videos?
Can I watch the videos on any device?
Are the massage techniques safe for everyone to try?
How often should I do the massage techniques?
Can I combine different massage techniques from different videos?
Do you offer any support or guidance if I have questions or concerns?
INVESTMENT IN EDUCATION IS PRICELESS
Will last a lifetime.

Increase your income.

Confidence leads to low stress.

Skyrocket results with these Apps.

4K resolution videos at your fingertips.

Speed up the process of applying the right techniques.

The investment in gaining knowledge and instant results.

Maximize the impact on your client's healing and recovery.

Your demand and booking will increase tremendously due to the client's short recovery time.
Take it to the
 

NEXT

 

Level!

Now is the time! 

You can keep doing what you have been doing and get the same results...

By signing up today, you'll gain access to our exclusive library of 1000'+ video tutorials that cover a wide range of techniques and modalities. Our experienced instructors have years of experience in the industry and are passionate about sharing their knowledge with others.

But that's not all!

As a member, you'll also have the opportunity to participate in our monthly webinars where you can learn from our team of experts and ask questions in real-time. Plus, you'll have access to our private community where you can connect with other members and share your experiences and insights.

Whether you're a beginner or a seasoned professional, our resources are designed to help you take your skills to the next level and achieve your goals. So why wait? Sign up today and join our community of passionate learners!

ENROLL today and get access to our library so you can become the Premiere Massage Therapist in YOUR area.

One more thing...here is a coupon of 10% you can apply to any of the apps or packages SAVE102023

 

ENROLL NOW